This is a very unflattering photo of Rayyan but gives you the best idea of this top. Most of the clothing that Rayyan wears are a bit different from what is available for sale online with hijabs. I suspect that Rayyan's wardrobe is supplied by scouring North American stores for what is modest enough for her to wear. Unfortunately I don't live in North America so I really wouldn't know the first place to start recommending shops that sell some modest items. So it's back to trying to find something similar on the net.
For the buckled wrap look I found a 3/4 sleeve top in white and red, wear them over a button-up for a formal look or a long sleeve tee for more casual. I liked both colors so here they are: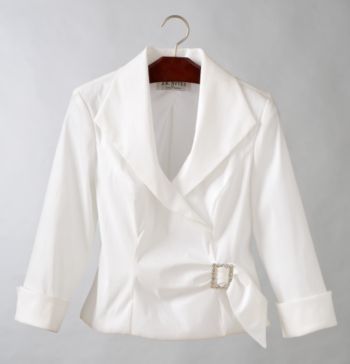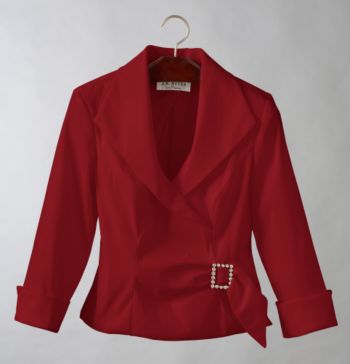 J.R. Nites Women's Taffeta Wrap Top for US$69.99
Remember if you find it an item in white you can dye it any color you like using fabric dye.